ULMA's Hydraulic Windscreen System HWS provides safety and protection for the Modern II
As the centerpiece of the enhanced downtown district in Fort Lee (New Jersey-United States), The Modern is comprised of two identical 47 stories 498 foot glass clad towers (The Modern and The Modern II), each containing 450 luxury rental residences and offering breathtaking views of the George Washington Bridge, Manhattan and the Hudson River. This transformation of Fort Lee's downtown is also part of the Hudson Lights project.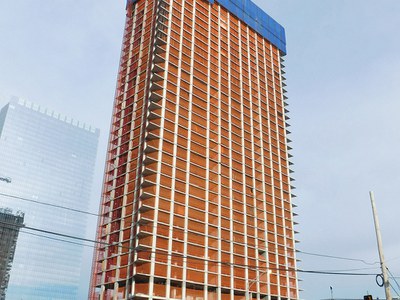 The Modern was conceived to address the demand that exists on the New Jersey side of the Hudson for luxury residences with high end features and finishes, resort style amenities and inspired architecture.
The construction of mid and high-rise buildings require great focus on perimeter safety and protection.
These were the considerations the client had when choosing ULMA's HWS system:
Excellent protection against inclement weather
Hydraulic self-climbing elevation, without crane
Adapts well to the geometry of irregular slabs, including geometries varying in height
Configurable section: working platform levels, material unloading platforms and available types of protective sheathing
Prevents falls from the slab edge
ULMA proposed the use of HWS "Hydraulic Windscreen System"; a safety system for the perimeter of mid-rise and high-rise buildings. It covers the floor under construction and the floors immediately below preventing workers, material, and equipment from falling off working areas as well as providing some protection from adverse weather conditions. ULMA's HWS system is lifted with a mobile hydraulic system and it is based on ULMA's MK system, providing great versatility when configuring different types of structures, easily adapting to any geometry; while reducing crane time requirements.
This job consist on a total of 40 straight screens and 6 platforms. The screens compromised a surface area of approximately 22,000 ft2.  In two locations of the building, two platforms were installed next to each other to provide a larger surface area and more loading capacity for easy transport of equipment.  The screens used for this solution were 45 ft. high and 12 ft. wide, made with horizontal H20 beams and reinforced netting which provides an aesthetic finish with minimal weight, and stress on the anchors.
In order to increase the safety provided by this system, two levels of integrated handrail closures were included, so that the level being poured and the one above had a tight closure near the slab edge, without interfering with the shoring of the slab.
To minimize on-site labor, the panels were pre-assembled by ULMA; eliminating on-site assembly time and related labor costs.
Another ULMA system used in this project included MEGAFRAME, our 10,000 pound per leg (20,000 pound per frame) galvanized steel frame handset shoring system used for the 20 ft. high lobby level.