ULMA Construction Canada New French Website Launch Announcement
ULMA Canada launches a new French website to provide their French-speaking visitors with an optimized user experience.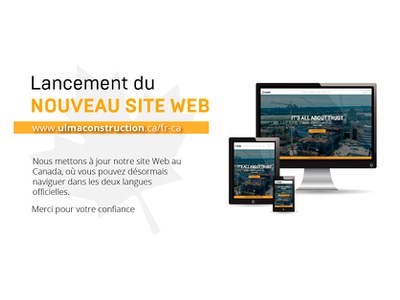 ULMA Construction Canada is pleased to announce the launch of its official website in French. The new version features a modern design and easy access to information to help French-speaking visitors find out more about ULMA's capabilities and solutions.
"We are thrilled to debut our French website, which now allows our  French Canadian-speaking visitors to navigate it in their language and access our projects portfolios, information, and news." – shares Mark Tisdall, President & CEO of ULMA Construction Canada. "This initiative is part of the company's ongoing efforts to enhance the quality and availability of information to customers across Canada in both official languages."
ULMA Canada's French website will be updated regularly with Industry updates, project profiles, international and local portfolios, job opportunities, and much more. Explore the new website at https://www.ulmaconstruction.ca/fr-ca
Contact us for more information.