The Key to Innovation: Close Customer Relations
We transform our clients' needs into new products, new solutions, and new customer services. Every year we develop new and improved products, the quality of which clearly demonstrates the effectiveness of close collaboration with our customers. This is the way to remain on the cutting edge of research, creating ever-more advanced and efficient formwork and shoring systems, tailored to both customer and market requirements.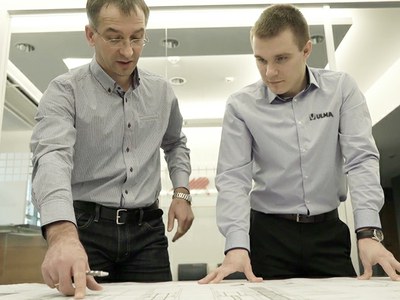 Our clients' demands for improved efficiency in performance and safety have played an important role in shaping the innovation and development of ourproducts and constructionprocesses. This is the strategy for continual improvement that we have adopted for all of our products and services. Listening to and working alongside our customers, during project development as well as on the jobsite, is what allows us to continue designing products and solutions that evolve, offering ever more profitability and safety for the user.
More than just a product, we offer comprehensive services
In addition to the latest formwork and shoring technology, we make a point to work side by side with our customers from the beginning of their projects, participating in close collaboration that sets us apart. Thanks to our wide range of products available anywhere in the world we are able to offer innovative solutions on any scale. Our solutions save both time and work, reducing project costs as much as possible. Our technical and engineering teams study project requirements at every phase of construction, as well as materials and product rotation schedules. We strengthen our technical support withonsite presence to supervise and assist in assembly, thus ensuring that the full benefits of good planning are enjoyed. This is how we bring projects to a successful finish.
Improvements in our logistical and technical-sales networks allow us to offer comprehensive services in many countries throughout the world within the timetables set by our customers. We plan each project meticulously, thus providing notable savings in both time and cost.
Attention to these crucial details is what has allowed us to develop close customer relationships.
At ULMA we research, design, develop, and provide high-technology solutions. We want to inform our customers about our latest developments whether they are on jobsites or in our showrooms. Because at ULMA, we continue innovating.
Improving building construction
Offering a similar balance between versatility and strength, BIRAMAX is an innovative solution for circular formwork systems. Adjustable, easy to assemble, and cost-efficient both for its ease of use and extreme durability, it allows for the construction of storage tank walls and other circular structures of any radii. The result is a product that stands above the competition: safe, effective, and capable of withstanding considerable pouring pressure. 
Prolonging the working life of each of our systems is fundamental to providing high-quality services. We have decided to increase our range of galvanized modular formwork products so as to increase high performance over an extended period of time.
New options for large-scale infrastructure projects
The versatility of the MK System offers new opportunities for civil engineering projects. The complexity of these infrastructure projects requires systems that optimize performance at each phase of work. With this in mind, we have developed new applications for bridges and tunnels, with the additional benefit of employing standardized material available for hire.
Standardizing mine tunnel construction with the MK System means considerable customer savings in an area where solutions, until now, have exclusively been customized. For bridges, the CVS Cantilever Carriage is a flexible high-performance system that offers high load-bearing capacity and adapts to varied deck widths.
A solution for every market
Over 50 years' of experience has shown us that each market and each country has its own ways, methods, and peculiarities in construction. So as to meet the needs of each market/customer, particularlyin North America, we have added FORMADECK slab formwork to our product portfolio. Designed in imperial units, FORMADECK is an aluminum and wood beam drop head formwork system for large slab construction, tailored specifically to US building methods.
Our new MEGAFRAME shoring system – in addition to offering the same ease of assembly, strength, and versatility as all ULMA shoring systems – is perfectly adapted to meet US safety requirements. But new developments in this and other markets have only just begun. 
First, safety
Safety is a fundamental necessity on every jobsite, and collective safety requirements are becoming increasingly strict. At ULMA, safety is a top priority at every stage of the process, not only in the design of our products and solutions, but also in their real-world application, where assembly, use, and disassembly are all taken into account. Work at height does entail stricter safety requirements, which is why we have increased our range of HWS perimeter safety screens with new materials such as polycarbonatecomponents, metal meshes, and more. For every need, we find a solution.
Future market developments
2016 will be a year full of new developments: new product launches, new solutions/services, and new markets. What is presented here is only a preview. Our product portfolio continues improving, and new developments will continue to be unveiled throughout the year. Because at ULMA, we continue innovating.