HWS and ATR - Partners at great heights
High-rise projects require an industry leader to come up with excellent product solutions and shortest possible execution deadlines. ULMA has been working for years in this sector offering staff expertise in the development, application and advice to customers at an international level. This know-how rounded off with a comprehensive, customised and continuous service from the beginning up to the end of each project ensures the success of this type of projects. Customers relying on ULMA made it possible to implement projects, such as the Hudson Yards in NYC and Bay Adelaide East Tower in Toronto.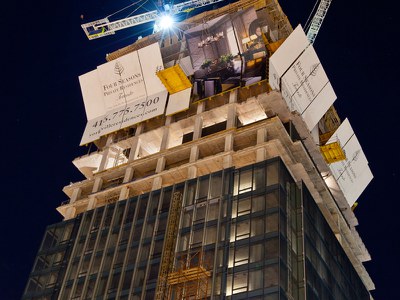 The nature of such projects being technically more complex requires specialised, however versatile and flexible, technology capable of adapting to different geometries. The ATR Self-Climbing System and the HWS Hydraulic Windshield System are only two examples out of the wide product range ULMA offers for the requirements of each construction.
Both share a number of features that make them fast, safe and functional systems:
Self-climbing hydraulic elevation without the need for crane lifts, even under adverse weather conditions

System and staff safety for working at height

Protection against the inclemency of the weather

Utmost versatility based on the MK System
Integrated and protected Multi-Purpose Platforms for working, lifting and storing of material, and table forms landing
ATR
For the lifting of auxiliary means such as concrete placing booms.