Energy projects in Peru
ULMA has many years of experience, a wide scope of expertise in this area and has carried out a considerable number of projects in Peru.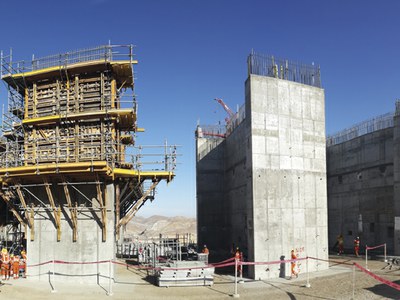 The growing demand for energy that comes with the fast development in Peru has led to a multiplication of the construction of energy infrastructure, in which ULMA is actively involved.
With prior experience from 2007, ULMA gets involved for the second time in this project, this time, in the expansion of the Cerro Verde mine managed by GyM S.A. This expansion is going to triple the ore processing capacity of the mine that produces more than 20% of the copper of the country to 360,000 tonnes.
ULMA has provided specific solutions for this project bringing in its most versatile products.
The 2.5 m thick slab required extra horizontal reinforcement against heavy wind that significantly increased the weight of the structure. The bracing of the T-60 shoring towers helped increasing their load capacity by more than 1 tonne to support the slab.
Moreover, ULMA has maintained at all times the highest standards of quality, safety and planning to meet the most demanding market requirements.
Hydroelectric Power Plant, Cerro del Aguila
One of the largest projects currently in progress and one that will become the second largest hydroelectric power plant in Peru is Cerro del Aguila with a production of 510 MW. The project means a real challenge due to the technical complexity, but also because of the location and the difficult access to the area.
The consortium consisting of GyM and Astaldi appointed ULMA as formwork supplier for the construction of the dam, the powerhouse and the intake. The dam is 80 m high and 270 m wide at the crest.
In the first construction stage of the Intake, modular formwork was used to provide utmost versatility: ORMA for straight walls, CLR and FLECTOR circular formwork for 2.6 m high tiers of curved walls. BRIO modular scaffolding was used to enable workers to carry out parallel works while the construction went on.
In the second and third stage, the walls were built with SBD single-sided climbing bracket. Because the product was new to the Peruvian market, the workers were trained on how to use it in order to increase the assembly efficiency.
In this type of project, machinery is constantly moved from one place to another, which had to be taken into account when building the slab. The solution to this was achieved by using MK Shoring and Gantry Bracket MT as support for the MK Truss, BRIO and ENKOFLEX beam formwork.