ULMA Form Works provides shoring and forming for the Empire Outlets - New York City's first and only shopping outlet
ULMA's new MEGAFRAME frame shoring system provides versatility and high productivity in the centerpiece in New York City's newest entertainment district.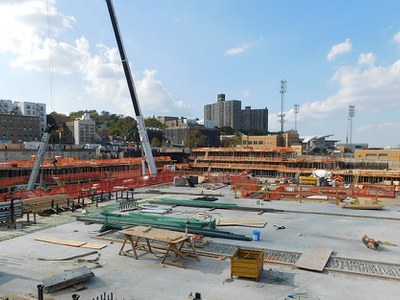 This world-class shopping destination is located at the base of the Staten Island Ferry Terminal. This project will be the go-to location for New Yorkers and tourists seeking a beautiful and free ferry ride to a unique world of value shopping, great food and a contemporary, waterfront atmosphere.
Empire Outlets is an essential part of the 'Core Four' projects that total nearly a billion dollars of private investment along this corridor. The developments are on track to bring a 200-room hotel, 350,000 square feet of retail, and a new waterfront park to St. George by 2017. 
A 100-store mall at 35 Richmond Terrace, in St. George. The development will also include an 11-story, 190-unit mixed-use hotel and residential building, and the entire project will total 443,000 square feet. 
These kinds of projects which combine different building types, requires fast, versatile and easy to use concrete shoring and formwork systems.
ULMA provided the contractor with design and technical support and stamped in-house engineering drawings as well as the logistic support to enable the contractor to complete its concrete work efficiently and keep this project on schedule.