ULMA Construction Canada, one of the Waterloo's area Top Employers for 2023
On December 1st, 2022, ULMA Canada was awarded and recognized as a Top Employer in the Waterloo Region in Ontario, Canada, where its head office is located.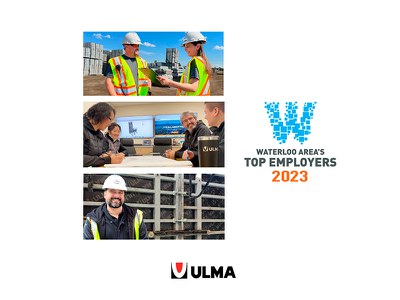 ULMA Construction Canada is proud to announce its recognition as a Waterloo Area Top Employers for 2023 as one of the best places to work in the area.  
The Waterloo Area Top Employers award is organized by the Canada's Top 100 Employers program, in which ULMA Canada was evaluated and judged based on several criteria, including:
Training and Skills Development
Internal Communications
Financial and Health Benefits
Diversity in the Workplace
Community Involvement
Among others.
"We are honored to be recognized as one of the Waterloo Area's Top Employers for 2023", mentions Mask Tisdall, President & CEO of ULMA Construction Canada. "This award represents our teams' commitment, dedication, and passion for what we do – factors that contribute to their professional development and positive work environment, which make ULMA Canada a great place to work."- Mark shares.
ULMA Canada has Offices and Logistics facilities based in Cambridge, Bolton, and Ottawa in Ontario and an Office and Yard facility in Coquitlam, British Columbia, employing over 50 team members across Canada.
Exercising their know-how and expertise in the world of construction, ULMA Construction Canada delivers flexible solutions that are completely scalable to support construction projects and investment plans for their customers.
 Contact us for more information.