ULMA Construction Canada, one of the 2023 Canada's Best Employers For Recent Graduates
ULMA Canada was awarded and recognized as one of the Best Employers for Recent Graduates in Canada in the 2023 Career Directory Listing.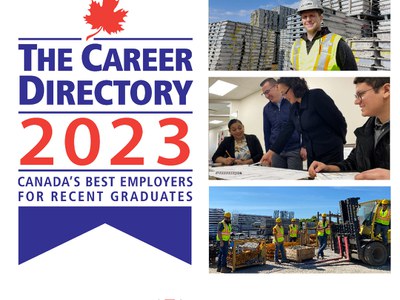 ULMA Construction Canada is proud to announce its recognition as one of the Best Employers for Recent Graduates in Canada for 2023 and featured in the Career Directory Listing.  
Published every year, The Career Directory is Canada's longest-running employment guide for new graduates. Each year, the editorial team at Canada's Top 100 Employers project reviews thousands of employers to determine the academic qualifications they actively seek in young job seekers.
"At ULMA, we support students by offering multiple Co-op positions across different departments, often with an opportunity for permanent employment after the end of their term. We believe in providing quality training, practical experience, and growth opportunities to motivated individuals who are ready to take their first step in the workforce."- shares Mark Tisdall, President, and CEO of ULMA Canada. "Our global support network enables us to provide new employees with the industry's best training resources that include trips across ULMA locations, visits to customers' sites, and in-person training sessions conducted by our experienced managers. ULMA's work culture is based on collaboration and teamwork in a diverse environment that contributes to a friendly and productive mindset." - Mark shares.
ULMA Canada has Offices and Logistics facilities based in Cambridge, Bolton, and Ottawa in Ontario and an Office and Yard facility in Coquitlam, British Columbia, employing over 50 team members across Canada.
Exercising their know-how and expertise in the world of construction, ULMA Construction Canada delivers flexible solutions that are completely scalable to support construction projects and investment plans for their customers.
Contact us for more information.