ULMA Concrete Forming and Shoring Products Play Key Role in Upgrade of Water Treatment Facility
The Maryland Correctional Institution, located in Hagerstown (USA), is one of Maryland's medium-security facilities.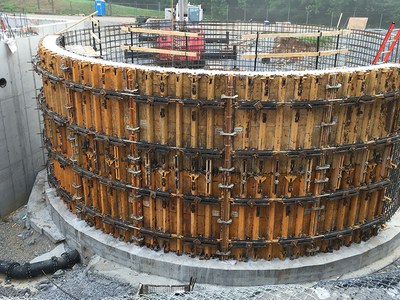 Carl Belt was contracted to provide construction of a major upgrade to the existing WWTP at the facility and partnered with ULMA to provide the required formwork materials. Structures included in the upgrade were a RAS Pumping Station, two Secondary Clarifiers, and a new Filtration Building.
ULMA provided 3,100SF of MEGALITE handset forming system to form the complex concrete walls of the RAS Pumping Station. This structure consisted of 16" thick walls that ranged from 19'-6" to 21'‑6" in height and included numerous interior walls. ULMA designed the formwork to be used in multiple pours in order to ease stripping procedures. This layout also provided greater reuse of the forming materials and reduced rental costs. She-bolts with inner tie rods and neoprene washers were provided to create waterseal ties.
ULMA's MEGAFORM gang forming system was provided to form the new Filtration Building. The Filtration Building contained numerous horizontal construction joints and intersecting walls which in turn created multiple lifts, form heights, and pour sequences. ULMA provided 2,600SF of MEGAFORM for the lower walls and an additional 1,700SF for the upper walls and "Y"-walls which ranged in height from 4' to 24'. ULMA also provided our new MEGAFRAME 20K shoring system to support the haunches of the "Y"-walls.
The two Secondary Clarifiers were completed with ULMA's BIRA circular steel forming system. The clarifiers were each 40'-0" in diameter with 16" thick walls that were 16'-0" tall. 1,800SF of formwork was used to form each structure. ULMA designed the formwork to pour each clarifier as one continuous pour. BIRA was complemented on the clarifiers with MEGAFORM to include the effluent boxes monolithic with the clarifier walls. MEGAFRAME was also used in the clarifiers to support the effluent trough and create a safe working platform for the carpenters.
Bryan Mauzy, Carl Belt site superintendent says "ULMA has always provided a clear and labor friendly plan and it has some of the best detailed forming plans in the industry. The reason we prefer ULMA is due to quality material delivered on time and professional service".