MK mine tunnel carriages
Flexible and cost-effective solution with a standard product. MK System applications are multiplied.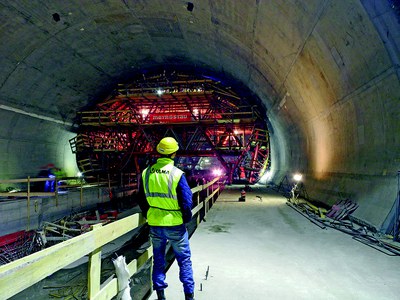 A standard solution for bored tunnels with MK means great savings for customers in an area where until now solutions had to be specifically designed.
In contrast to other products that can only be used for a particular kind of application, MK offers the possibility of using most parts in numerous configurations. This leads to a substantial increase of product efficiency, since a higher degree of use of the parts, reduces the investment in both sale and rental.
The combination of MK structure and MK formwork is a light form carrier that builds the bored tunnel in successive stages. The forward-moving and levelling system, both hydraulic and manual, is built-in into the structure itself, as are the working platforms, access and safety items.
Moreover, the steel formwork panel is easily adapted to different radii, so that it can be reused for any other tunnel by simply changing the curvature.
The side walls and the vault have openings for concrete placement, inspection and for the use of surface vibrators and their pneumatic installation.
Although load requirements from the concrete pressure are much higher, because there is no outside formwork, the structure is capable of withstanding them.
The MK bored tunnel solution does not only satisfy the technical requirements but also takes into account aesthetics. It provides an optimal final finish after the formwork removal.